Previous Litters
Puppies From Our Past Litters Born 12/11/08
and 6/3/11!!
A beautiful litter born 12th November, 2008 to our lovely girl Peggy. Twelve gorgeous healthy puppies, six girls and six boys. Mother and babies all did extremely well, Peggy was a great Mum. The father, Gus was congratulated on such a handsome litter however he seemed unimpressed and refused to offer cigars.
Gus has proven to be a wonderful sire with us and other breeders. A repeat mating of our 2008 litter produced an equally lovely litter with 11 beautiful puppies being born on 6/3/2011.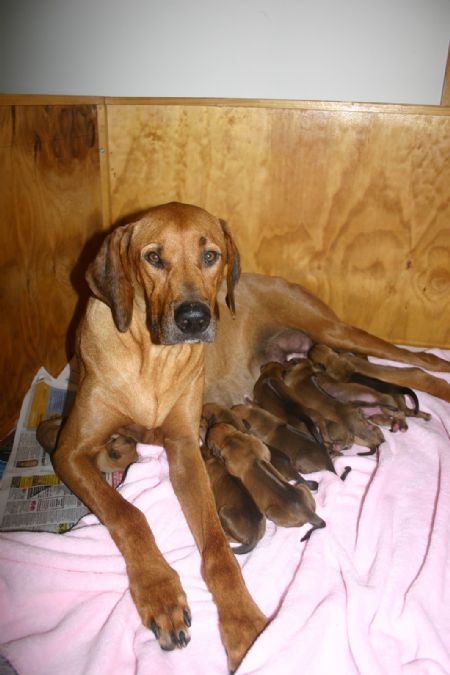 They were lovely!
The safe arrival of eleven healthy Veldthund puppies! This litter was a repeat mating between our beautiful Peggy (Aust. Ch. Sanyati Persephone) and our handsome Gus (Aus Ch Marmatia Gunella Gusto). A proven combination producing sound confirmation and lovely temperments. Both Peggy and Gus are not only our much loved pets but are successful show dogs. They are both available for viewing on request and pedigrees, hip and elbow scores and photo's the can be viewed on this website.
The puppies were born on 6/3/11, 6 males and five females. All puppies went to wonderful homes. They were fully vaccinated, registered, wormed, microchipped and came with a comprehensive Puppy Kit. Our puppies are always well socialised and raised in a safe and hygenic environment.
Although we do not often breed litters any puppies will be advertised on this website.
| | | |
| --- | --- | --- |
| Newborn and so active | Feeding well from birth | A great mum with a healthy newborn litter |